My sister got married a couple weeks ago and I was the reception decorator. It was very casual and was held at a local restaurant. I needed something for wedding guests to put cards in and instead of doing the usual basket with a bow I started searching the Internet and WOW there are a lot of great ideas out there.
Before
I decided on this because I needed a gift, but was really stuck on what to get so this was my wedding gift/reception decoration. I really like how it turned out. I bought a simple mail box and used my contact paper and my hand dandy cricut machine.
I told them to remove the est. 2011 before hanging at the house, it may confuse the mailman.

The B is for Buck and the C for Carol and the S is Schwartz

I love how it turned out. I added a heart on the flag for whimsy and a bow just to fancy it a little.


Linking here: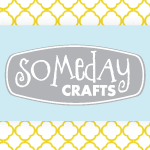 Blue Cricket Designs